2022/2/28
Information
Individual Customers
Corporate Customers
Higashi-Osaka City and Ito Hanpo Pharmaceutical Co., Ltd. conclude a comprehensive cooperation agreement-Collaboration in the three fields of sports / culture / industry, health / welfare, and city / environment for the purpose of improving citizen services and promoting regional revitalization-
Ito Hanpo Pharmaceutical Co., Ltd. (Headquarters: Higashi-Osaka City, Osaka Prefecture, President: Tatsuo Ito), which manufactures and sells health foods, pharmaceuticals, and non-pharmaceutical products, is located with Higashi-Osaka City on February 4, 2th. On the same day, we concluded a comprehensive cooperation agreement for the purpose of improving citizen services and promoting regional revitalization in the three fields of (28) sports / culture / industry, (1) health / welfare, and (2) city / environment. I did.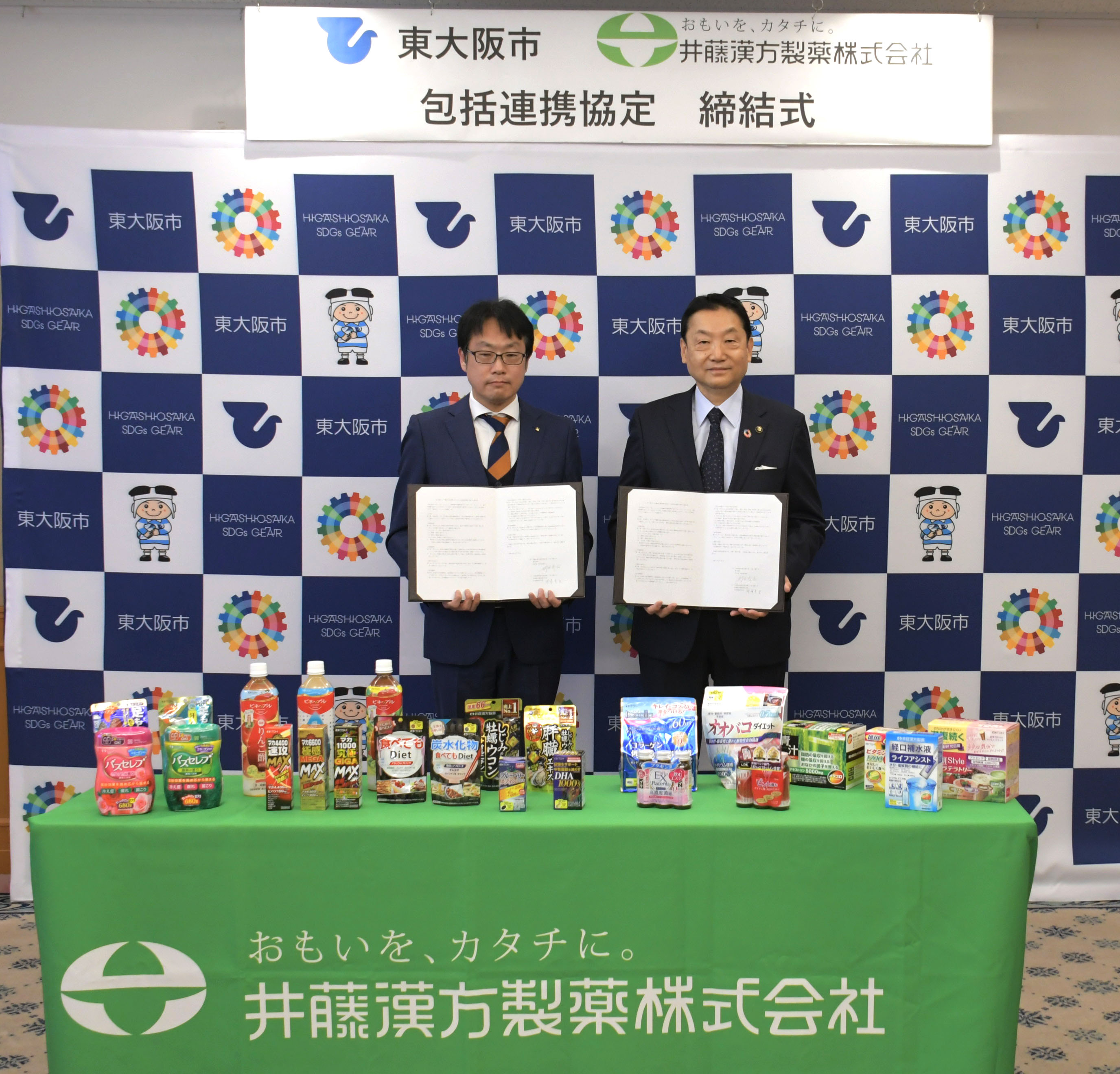 (Photo: From left: Tatsuo Ito, President of Ito Hanpo Pharmaceutical Co., Ltd., Mayor of Yoshikazu Noda, Higashi-Osaka City)

[Background of the agreement]
 Ito Hanpo Pharmaceutical Co., Ltd. supports health promotion at long life stages in order to extend healthy life expectancy through pharmaceuticals and health foods.In August 2nd year of Reiwa, we donated an oral rehydration solution to help prevent heat stroke of medical staff and firefighters who are working to prevent infection with the new coronavirus. We donated healthy drinks to facilities for the elderly and children's cafeterias for promotion.In addition, we have signed a top partner contract with FC Osaka, which has Higashi Osaka City as its home town, and convey the importance of health through sports.

 On the other hand, in Higashi-Osaka City, in order to actively incorporate the know-how and ideas of private businesses, etc. in solving problems faced by the government, improving citizen services, and revitalizing the region, public-private partnership was established in April 2nd year of Reiwa. We have set up the "Citizen-Private Collaboration Office", an organization that specializes in working, and the "Higashi-Osaka City Citizen-Private Collaboration Desk" in the Citizen-Private Collaboration Room as a point of contact for receiving proposals and consultations regarding cooperation from companies. ..

 This time, Ito Hanpo Pharmaceutical Co., Ltd. has submitted various cooperation proposals to the Higashi-Osaka City Public-Private Partnership Desk that make use of its strengths, such as contributing to health promotion by supporting citizens' participation in sports and providing health foods, and reducing food loss. As a result of the above, we have held dialogues between the two parties and have decided to conclude a comprehensive cooperation agreement in three fields.

[Main efforts based on the agreement]
 Of the seven fields of "policy of measures by field" shown in the 3rd comprehensive plan that stipulates the direction and guidelines for town development in Higashi-Osaka City for the 12 years from the 10rd year of the year to the 3th year of the year, (7) ) Sports / Culture / Industry, (1) Health / Welfare, (2) Urban / Environment and Higashi-Osaka Citizens' service improvement and regional revitalization increase.
The main initiatives based on the comprehensive cooperation agreement currently envisioned are as follows.


Field
Main efforts
Sports / Culture / Industry

◎ Support for citizens' participation in sports

・ We will support citizens' participation in sports by exhibiting booths at sporting events held in Higashi-Osaka City and sponsoring products.

Health and welfare

◎ Contribution to the health promotion of citizens

・ We will contribute to the health promotion of citizens by providing health foods to welfare facilities and children's cafeterias.

City / environment
◎ Reduction of food loss
・ Efforts to reduce food loss and contribution to the local community, such as providing foods that cannot be distributed to the market for various reasons, even though there is no problem with quality, to various facilities through Higashi-Osaka City. I will promote it.
[About Ito Hanpo Pharmaceutical Co., Ltd.]
Location: 4-1-XNUMX Nagatahigashi, Higashi-Osaka City, Osaka Prefecture
Representative: Tatsuo Ito, President and CEO
Creation: March 1966
Capital: 9,900 10,000 yen
Business: Manufacture and sale of pharmaceuticals, quasi-drugs, cosmetics and health foods
URL: https://www.itohkampo.co.jp/